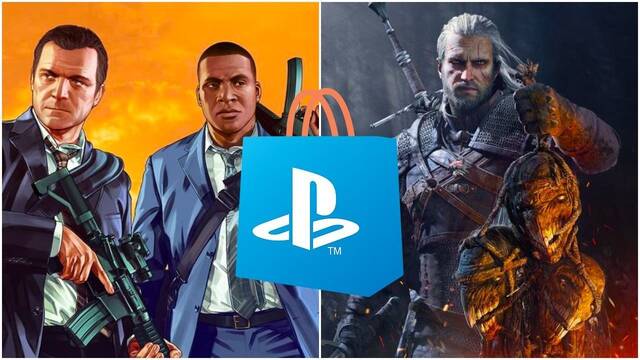 El título de Rockstar y el juego de rol de CD Projekt RED, The Witcher III: Wild Hunt, lideran la lista junto a FIFA 20 de EA.
Por segundo mes consecutivo, como ya hizo en diciembre, Grand Theft Auto V se ha convertido en el juego más descargado de PlayStation Store para PS4 durante el mes de enero . Lo ha confirmado la propia Sony en su blog oficial, confirmándonos el éxito del juego de mundo abierto de Rockstar , que superó los 120 millones de copias.
Por su parte, Beat Saber, el videojuego de ritmo y acción musical para PS VR lidera los juegos de realidad virtual, con Fortnite a la cabeza de las listas de los contenidos descargables y los videojuegos free to play para la consola. Tenéis todas las listas por plataforma y tipo a continuación.
PlayStation 4
Grand Theft Auto V ( 1 )
The Witcher 3: Wild Hunt ( 11 )
EA SPORTS FIFA 20 ( 2 )
EA SPORTS UFC 3 ( 10 )
Call of Duty: Modern Warfare ( 3 )
Real Farm ( RE )
DRAGON BALL Z: KAKAROT ( Nuevo )
Minecraft ( 7 )
TEKKEN 7 ( 4 )
Rocket League ( 8 )
STAR WARS Battlefront II ( 6 )
Need for Speed Heat ( 9 )
Marvel's Spider-Man ( 18 )
Red Dead Redemption 2 ( 13 )
ARK: Survival Evolved ( Vuelve a la lista )
TOM CLANCY'S RAINBOW SIX SIEGE ( 12 )
STAR WARS Jedi: Fallen Order ( 5 )
Need for Speed ( 20 )
Gran Turismo Sport ( 19 )
Rise of the Tomb Raider: 20 Year Celebration ( Vuelve a la lista )
PlayStation VR
Beat Saber ( 1 )
Blood & Truth ( 2 )
Job Simulator ( 3 )
SUPERHOT VR ( 4 )
Creed: Rise to Glory ( Vuelve a la lista )
ASTRO BOT Rescue Mission ( 5 )
Arizona Sunshine ( Vuelve a la lista )
The Elder Scrolls V: Skyrim VR ( 7 )
Farpoint ( 8 )
DOOM VFR ( 9 )
Contenidos descargables
Fortnite – The Wavebreaker Pack ( 1 )
Fortnite – Polar Legends Pack ( 2 )
Fortnite: Save the World – Standard Founder's Pack ( 3 )
Fortnite – Frozen Legends Pack ( Vuelve a la lista )
GTA Online: Criminal Enterprise Starter Pack ( 4 )
KINGDOM HEARTS III Re Mind ( Nuevo )
Fortnite – Darkfire Bundle ( 5 )
Marvel's Spider-Man: The City That Never Sleeps – Season Pass ( 8 )
STAR WARS Battlefront II: Celebration Edition Upgrade ( 6 )
The Witcher 3: Wild Hunt Expansion Pass ( 9 )
Juegos free to play
Fortnite ( 1 )
eFootball PES 2020 LITE ( 2 )
Darwin Project ( Nuevo )
Apex Legends ( 4 )
Brawlhalla ( 6 )
Cuisine Royale ( 5 )
Warface ( RE )
DRAGON BALL XENOVERSE 2 Lite Version ( 9 )
WORLD OF WARSHIPS: LEGENDS ( 10 )
Paladins ( Vuelve a la lista )
Fuente: